Becoming a Foster Parent
Interested in becoming a foster family? We offer foster care training that's designed to educate families on the unique issues related to caring for foster children that have been removed from their caretakers. Children who have experienced trauma have a special set of needs, and this training will equip families with the skills necessary to provide children in foster care with a safe, stable, and nurturing foster home.
If you've ever wished to care for a foster child, we would encourage you to begin the process of becoming licensed. There is always a need for well-trained, compassionate foster families in our area. To become a licensed foster parent through Nebraska Children's Home Society, you are required to complete 39 hours of structured training prior to receiving your license.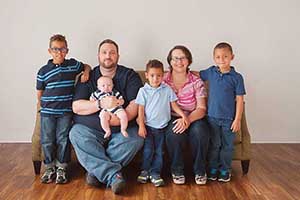 Minimum requirements for becoming a licensed foster parent and providing a foster home include the following:
Must be at least 21 years of age.
Must pass background checks with local, state, and national law enforcement, Adult Protective Services, Child Protection Services, Department of Motor Vehicle and Sex Offender.
Completion of the Foster Parent Training Class.
Completion of an in-depth home study.
Becoming a foster family can be one of the most rewarding events of your life, knowing that you're providing a safe, secure and stable environment for a foster child whose life has been both interrupted and disrupted. We'd love to partner with you to make your home a welcoming foster home in our community.